=

V
DB AG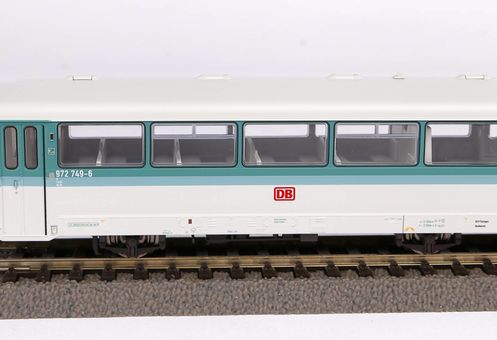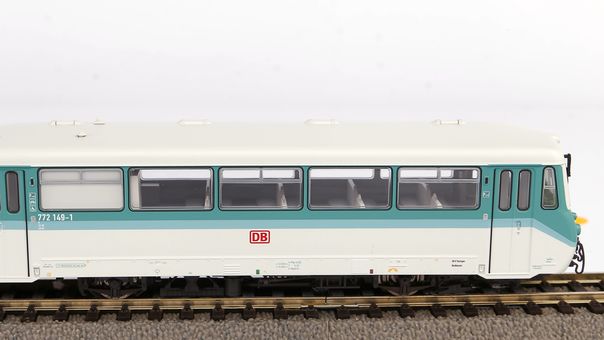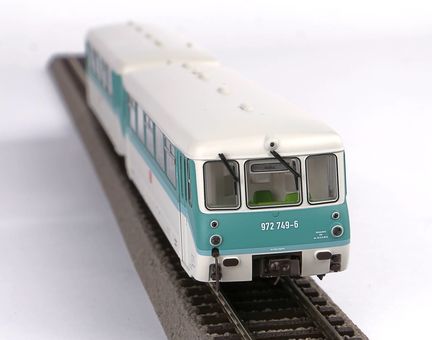 Railcar/Sound BR 772 + Control car DB AG V + PluX22 Dec.
Item Number: 52885
382,00 €
currently not available
Estimated delivery date:
unknown so far
Railcar/Sound BR 772 + Control car DB AG V + PluX22 Dec.
As an Era V variant and thus in the attractive product colors of mint green and light gray, the new model of the 772 appears. The rail car is powered by a powerful micromotor that is equipped with flywheel masses for the sake of perfect running characteristics and has a factory-installed buffer capacitor for optimum running characteristics without sound interruptions. The drive acts on both axles of the powered rail car. The powered rail car and cab control car can be coupled together using current-conducting close coupler kinematics. The lighting functions of both cars can be switched separately, allowing a clear view through the passenger compartments. For example, the traction unit independently registers whether a cab control car is attached and then switches off the lighting between the cars. The PIKO piglet cab has a PIKO SmartDecoder 4.1 with matching vehicle sound ex works.
Eigenschaften:
| | |
| --- | --- |
| Item number: | 52885 |
| EAN: | 4015615528852 |
| Sound ja/nein: | ja |
| WEEE-Registrierungsnummer: | DE 24216800 |
| type of current: | Gleichstrom |
| railway administration: | DB AG |
| era: | V |
| kind of measurement: | LüP / Länge über Puffer |
| measurement: | 311 |
| minimum radius: | 358 |
| digital interface: | NEM 658 PluX22 |
| Verbauter Decoder: | PluX22 Sounddecoder |
| Interior Lighting / Lights: | Schaltbare Innenbeleuchtung werkseitig ausgerüstet |
| Coupling: | NEM Schacht + Kurzkupplungskulisse |
| Sound: | PIKO Sound-Decoder werkseitig ausgerüstet |
| directional lights: | Fahrtrichtungsabhängiger Lichtwechsel weiß / rot |
| Special Features: | Beleuchtete Zugzielanzeige (digital schaltbar) |
| age recommendation: | ab 14 Jahren |