INVITATION
---
Dear PIKO friends,

We hereby cordially invite you to our Open Day (TOFT) on 18 June 2022 in Sonneberg/Thuringia.

Already for the 12th time we celebrate this special event with model railway friends from all over the world and would be pleased to welcome you in our factory.

Experience our wide range of products in the four scale sizes G, H0, TT and N at first hand, look over the shoulders of our employees in the production of garden railway articles and enter into a lively exchange with our engineers. On the occasion of the Open Day, you will of course again have the opportunity to purchase attractive special models as well as discounted 2nd choice items.

Our little guests will be entertained by a PIKO garden railway playground and other activities as well as a large bouncy castle.
Your well-being will be well cared for with Thuringian specialities as well as cold and warm drinks.

To make your journey an unforgettable experience, we offer a selection of stylish special trains that will take you to us from various stations.

Of course, you can also travel by "normal" train. A free shuttle bus will take you from Sonneberg station to the PIKO grounds. For our guests arriving by car, there are plenty of parking spaces available nearby.



COVID-INFO


Your health and the health of our employees are very important to us. For this reason, we ask you to observe the following hygiene measures on our Open Day on 18.06.2022:

Admission to the PIKO premises is only permitted for vaccinated, recovered or tested persons with appropriate proof**. As a result, there may be waiting times when entering the premises. In order to shorten these waiting times, we kindly ask you to have your respective proof ready to hand. Persons without corresponding 3G proof have the possibility to have a test carried out at the test station set up for this purpose in the entrance area on this day. Furthermore, masks (medical mask or FFP2) are compulsory when entering indoor areas on the PIKO premises (Note: In the entrance area to the company and in other areas where so-called bottle necking can occur, the wearing of a mask protector is recommended). This may also result in longer waiting times. In the interest of your health and ours, we thank you for your understanding. Please also read our house rules

**A rapid antigen test or a PCR test (validity period according to legal requirements) is valid as proof of testing.

We are looking forward to your visit and wish you a good journey and an eventful and pleasant stay with us in Sonneberg.
PROGRAMME

---
From 9 a.m. to 5 p.m., we offer the following programme on Saturday, 18 June 2022:


Company tour during ongoing production
Large raffle with attractive prizes
Special models and PIKO souvenirs
G-cars, H0-cars and containers with special printing for the "Open Day
Food and drink with Thuringian specialities
PIKO Flagship Store
Large G playground, bouncy castle and wagon painting activity for the children
PIKO model with the imprint of a photo of your choice (your photo on our wagon - please do not use your own data carriers. In advance, the photo can be sent to meinbild@piko.de)
Special trains at the station
Attractive display layouts
Sale of oldies and special items
And much more ...
Hier können Sie unseren Einladungsflyer downloaden
||
Der offizielle Plan kann hier heruntergeladen werden
SPECIAL MODEL
---


Exclusive train set: goods train wood from South Thuringia, diesel locomotive BR 232 WFL with three log wood transport wagons Roos-t642, era VI


58116 H0 Expert DC version
58117 H0 Expert DC version, incl. PSD XP 5.1 sound
58216 H0 Expert AC version, incl. PSD XP 5.1 sound
When the first class 132 (later class 232) diesel locomotives were put into service for universal passenger and freight service in 1974, the Deutsche Reichsbahn set a service life of 20 years - and currently, almost 50 years later, a number of class 232 locomotives are still in service. Today, the locomotives of this series are mainly found in freight service. One example is the 232 333-5 of Wedler Franz Logistik GmbH & Co. KG. The medium-sized, private railway company is active in the areas of freight transport and railway construction logistics, among others. One of the operational regions of the 232 333-5 is Sonneberg, where the locomotive can be observed transporting logs from time to time. This scene has been faithfully recreated for the model railway world with the PIKO TOFT set 2022. Indulge yourself with this special souvenir!



REGISTRATION
---
Hiermit melde ich mich/wir uns zum "Tag der Offenen Tür" bei der Firma PIKO Spielwaren GmbH

in Sonneberg an.


SPECIAL TRAINS
---
For guests arriving by train, PIKO has again arranged a free shuttle bus service from Sonneberg station to the PIKO factory and back.
• Sonderzug von Berlin nach Sonneberg
Nähere Informationen und Anmeldung unter:
Wedler Franz Logistik GmbH & Co. KG
Verkehrshof 3 * 14478 Potsdam

Tel. 0331 87000913
E-Mail: info@wfl-lok.de
www.wfl-lok.de

ROUTE
---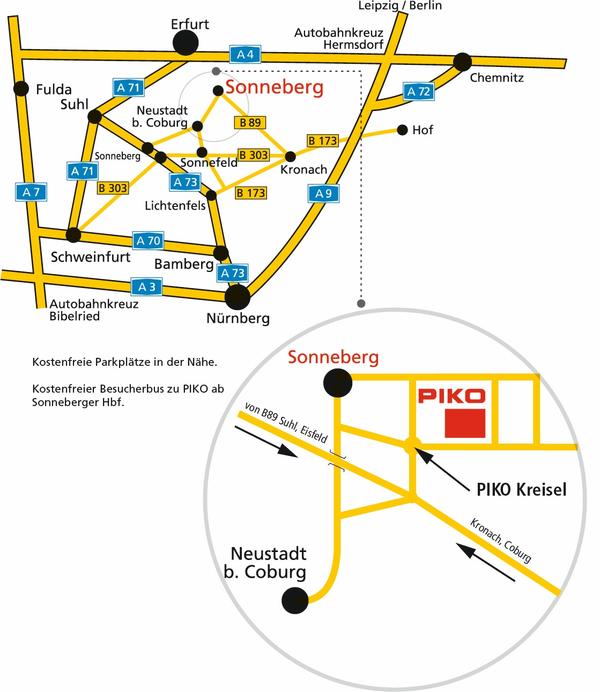 For accommodation/hotel arrangements please contact the
Touristinformation und Naturparkcenter Sonneberg
Bahnhofsplatz 3
96515 Sonneberg
Tel. 03675/702711
Fax 03675/742002

www.sonneberg.de
www.sonneberg-tourismus.de
tourismus@stadt-son.de