Info area PIKO SmartProgrammer and PIKO SmartTester
Uncomplicated operation via the free software for Windows PC and as an app for iOS and Android devices. You have an Internet connection, Windows 10/11 and a free USB port, or a Smartphone, iPhone or Tablet? Then you can get started right away and program or control a whole lot via the attractively designed user interface!
Simple and intuitive:
programming, setting, testing
Easy uploading of own sounds to suitable decoders
Configuration of all digital parameters via the intuitive app
Direct feedback via decoder settings
Interfaces for decoders of nominal sizes N, TT, H0 and for large track widths
PIKO SmartProgrammer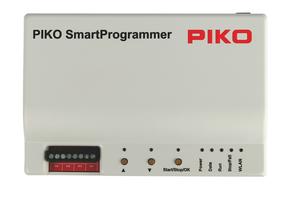 With the PIKO SmartProgrammer, you can download the complete PIKO locomotive projects (including sound), insert your own station announcements and your personal decoder settings easily and conveniently, without any programming knowledge. To do this, you need a PC with Internet access and a free USB port, or a smartphone, iPhone or tablet (WLAN or USB cable).
A lot can be programmed or controlled with the attractively designed user interface!
Adjust digital parameters of your decoders via intuitive app
Easy operation without programming knowledge
Standardmodus: Alle grundlegenden Decodereinstellungen können einfach geändert werden
Expert mode: More detailed settings of all decoder properties and sound options
Fast update of the connected PIKO SmartDecoder
Automatic firmware updates via the App
Graphic display of the settings made on the locomotive in the app and in conjunction with the PIKO SmartTester
Fast transmission of sound data via the SUSI interface
Function key assignment can be changed very easily
Integrated signal box for switching e.g. turnout decoders
All data printable
In addition, the PIKO SmartProgrammer can also be used as an autonomous mini-central unit to control individual vehicles or to create small programming sequences, e.g. for automatic shuttle operation in showcases or even on a desk.
PIKO SmartTester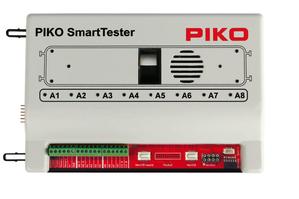 The PIKO SmartTester, for easy testing of your decoders, offers you interfaces of the nominal sizes N, TT and H0, connection possibilities of decoders with large track widths, a long-life motor, a SUSI interface, a high-quality loudspeaker and LEDs. With the PIKO SmartProgrammer as well as the PIKO SmartTester, complete PIKO locomotive projects, which are characterized by loving details and a great deal of expertise in all aspects of railways, can now be easily downloaded and edited.
The PIKO SmartTester only works in combination with the PIKO SmartProgrammer.
Simple and fast testing of locomotive functions and decoder settings
Optimally adapted to the PIKO SmartProgrammer
Direct feedback via speakers, a motor, the LEDs (outputs A1 to A8) and the front/rear peak lights
Connection to PIKO SmartProgrammer via side plug-in connection
---
1) Manual
2) Software / Updates / App
Click Downlod to download the PIKO SmartProgrammer App (Version 1.2.7.0) for Windows 10 PCs

The available (sound) projects can be downloaded via the respective app.
3) FAQ / Help
What should be considered when installing the app on Windows PCs?
If the following message appears during installation, please click on "Yes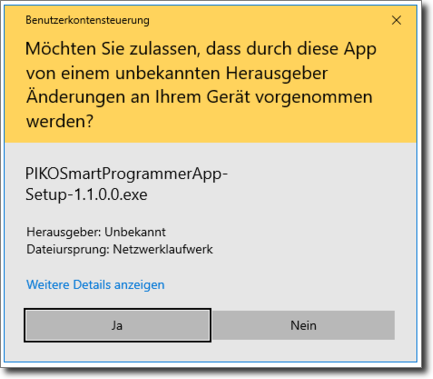 Bzw. wenn Sie die nachfolgende Meldung erhalten, klicken Sie bitte auf "Weitere Informationen" und dann "Trotzdem ausführen"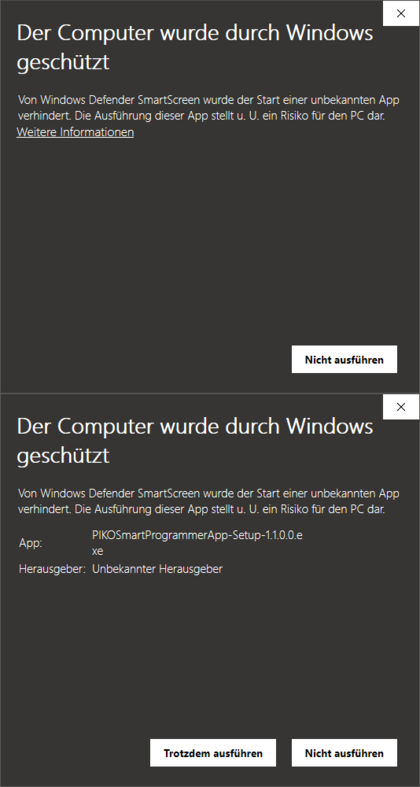 Programming a 4.1 G Scale decoder in the vehicle does not work??
Here you can download instructions on how to edit a G decoder installed in a G Scale locomotive via the track output of the PIKO SmartProgrammer.
Manual (PDF)
4) Support
Wenn Sie in den oben stehenden FAQs keine Antwort auf Ihre Frage(n) finden konnten, können Sie nachfolgendes Formular nutzen:
** Lizenzvereinbarung für PIKO Software Nutzung
Diese Lizenzvereinbarung ist eine rechtlich bindende Vereinbarung zwischen Ihnen und der PIKO Spielwaren GmbH.
Sie bezieht sich auf Software, die auf dieser Internetseite heruntergeladen werden kann.
Mit dem Herunterladen und/oder der Nutzung dieser Software akzeptieren Sie diese Lizenzvereinbarung. Wenn Sie dieser Lizenzvereinbarung nicht zustimmen, haben Sie keinerlei Rechte an der Software und müssen umgehend sämtliche bereits heruntergeladenen Teile der Software löschen.

1. Lizenzgewährung
PIKO Spielwaren GmbH gewährt Ihnen das nicht übertragbare, eingeschränkte, nicht exklusive Recht, die Software ausschließlich für Ihren persönlichen Gebrauch zu nutzen. Es ist Ihnen gestattet, die Software in einen RAM Speicher zu laden oder auf einer Festplatte oder einem anderen Speichermedium in einem Computer, Hardwareprodukt oder mobilen Gerät zu installieren.
Durch die Benutzung der Software erlangen Sie keinerlei Eigentumsrecht, Urheberrecht oder andere Recht an der Software. Der Inhalt ist lizenziert, nicht verkauft.

2. Verbotene Nutzung
Weder Sie noch Dritte nach Ihrer Anweisung dürfen die Software an Dritte lizenzieren, kopieren, reproduzieren, übertragen, leihen, verkaufen, leasen, in einer pay-per-play Basis anbieten, gegen Bezahlung oder anderer Vergütung verteilen oder anderweitig kommerziell nutzen oder weitergeben.

3. Urheberrechte
Sie erkennen an, dass alle Urheberrechte an der Software bei PIKO Spielwaren GmbG liegen und dort verbleiben. Sie werden die Rechte an der Software weder aktiv noch durch Unterlassung beeinträchtigen oder schmälern. Sie können von PIKO Spielwaren GmbH verantwortlich gemacht werden für jegliche Verletzung am Urheberrecht des Inhalts.

4. Keine Garantien
PIKO Spielwaren GmbH stellt die Software "wie gesehen" bereit und schließt jegliche Garantie, soweit gesetzlich erlaubt, aus. Insbesondere wird keine Garantie dafür übernommen, dass der Inhalt eine bestimmte Qualität besitzt oder für einen bestimmten Zweck geeignet ist. PIKO Spielwaren GmbH garantiert nicht, dass die Ausführung der Software ohne Unterbrechungen, fehlerfrei oder virusfrei läuft und Ihren speziellen Anforderungen entspricht. Es ist möglich, dass Sie andere Rechte haben, die je nach Gesetzgebung variieren können.

5. Haftungsausschluss
PIKO Spielwaren GmbH kann nicht haftbar gemacht werden für jegliche Schäden, die direkt oder indirekt mit der Software oder Teilen davon in Verbindung stehen. Haftung durch PIKO Spielwaren GmbH wird nur dann und auch nur in dem Umfang übernommen, indem sie sich gesetzlich nicht ausschließen lässt. Keinesfalls kann PIKO Spielwaren GmbH haftbar gemacht werden für Schäden des Geschäfts, der Daten, des Profits, des Vermögens oder anderer besonderer indirekter ökonomischer Schäden.

6. Allgemeines
Sie dürfen keine Rechte, die Ihnen in Rahmen dieser Lizenz übertragen worden sind, an Dritte weitergeben oder Dritten gewähren.
PIKO Spielwaren GmbH ist nicht verpflichtet, Ihnen Gewährleistung, technische Unterstützung oder Upgrades für die Software bereit zu stellen.
Sie stimmen zu, alle zutreffenden Einfuhr- und Ausfuhrbeschränkungen einzuhalten und erkennen an, dass Sie alleine verantwortlich sind, alle notwendigen Lizenzen zum Export, Re-Export, Transfer oder Import des Inhalts zu erlangen.
Im Falle, dass diese Lizenzvereinbarung oder ein beliebiger Teil dieser Lizenzvereinbarung sich als illegal oder nicht durchsetzbar erweist, bleiben die anderen Teile und der Rest dieser Lizenzvereinbarung davon unberührt und weiterhin gültig.