Infoarea PIKO Analyst Software for PIKO Measure Car

1) Manual
2)

Licensing / activation key
Without a valid activation key the functions of the program are limited.
(Demo version)
In order to convert the demo version into a full version, you need an activation key / the software must be activated.

If your device is connected to the Internet, you can activate it via the programme. If you are using the device without an Internet connection, please follow these instructions:

Therefore open the PIKO Analyst *Help* ("Hilfe") section and select *Enter activation key* ("Freischalt-Key eingeben")

A form opens that displays six groups of numbers. That's your Hardware-ID.

Now you send us the "
Hardware ID
" and the "
registration number
" ("Registrierungsnummer")
from the inside of the CD Cover
via email to
hotline@piko.de
with the subject "activation key for PIKO Analyst" or via following ►
Form
You will receive a 16-digit activation key from us.
Please note: You will not receive an automatic response from our servers. Instead we will take care of your activation key personally.
Please understand that this is only possible during our office hours from Monday to Friday.
After entering the activation key in the appropriate fields, click OK.
If the key has been activated and a license file has been created, restart the PIKO Analyst.
Now all functions are unlocked (full version).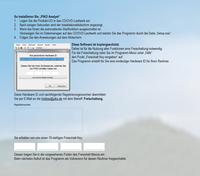 3) FAQ / Help
No FAQs available at the moment.
4) Software / Updates
03/2022 - Version 1.02 - Download (.zip-Folder)

Release Notes:
- Connection problems USB fixed
- Window "Measuring display" did not open every time
- Fixed Settings for graph could not be saved
5) Support
If you cannot find the answer(s) to your problem in the above mentioned manuals and FAQs feel free to contact our technical support:
** Licensing agreement for the usage of PIKO software


This licensing agreement is a legally binding agreement between you and the PIKO Spielwaren GmbH.
It concerns software, that can be downloaded from this website.
By downloading or using this software, you agree to these licensing terms. If you do not agree to these licensing terms, you do not have any rights to the software and you have to immediately delete any parts of the software you have already downloaded
1. Licensing
The PIKO Spielwaren GmbH grants you the non-transferable, limited and non-exclusive right to use the software only for your personal purposes. You are not allowed to load the software on a RAM unit, on a hard drive, or install it on any other data carrier of a computer, a hardware product or a mobile device. By using the software, you do not gain any ownership rights, copyrights or any other rights of the software. The content of the software is licensed and not sold.
2. Illegal usage
Neither you nor any third party directed by you may license, copy, reproduce, transfer, lend, sell, lease or distribute the software to third parties or commercially offer it on a pay-for-play basis for a fee or any kind of payment.
3. Copyright
You acknowledge that all copyrights of the software are reserved by and remain at the PIKO Spielwaren GmbH. You will not interfere with or diminish these rights, neither through action or omission. You can be held responsible for any violation of copyright by the PIKO Spielwaren GmbH.

4. No guaranties
The PIKO Spielwaren GmbH offers the software "as seen" and excludes any guaranties, as long as it is legal. Especially, we exclude any guaranties for the quality of the content or its purpose of utilisation. The PIKO Spielwaren GmbH does not guaranty that the software works without interruptions, errors or viruses nor that it meets your special requirements. It is possible that rights differ, depending on the legislation.

5. Disclaimer
The PIKO Spielwaren GmbH is not liable to prosecution for any damages that can directly or indirectly be associated with the software or parts any part of it. The PIKO Spielwaren GmbH can only be made responsible in cases, where it cannot be excluded by law. Under no circumstances it is possible to make the PIKO Spielwaren GmbH reliable for damages to business, data, profits, assets or for any other kinds of indirect economic damages.

6. General information
You are not allowed to pass on any rights you have been granted with this license to third parties.
The PIKO Spielwaren GmbH is not obligated to offer you any warranty, technical support or upgrades for the software.

You agree to comply to all applicable import and export regulations and that you are solely responsible to obtain all necessary licenses for the export, re-export, transfer or import of the content. In the case, that this licensing agreement or parts of this agreement turn out to be illegal or unenforceable, all other parts of the agreement remain untouched and legally binding.