FAQ TT Scale
25.01.2021 BR 150 special function mapping of the driver's cab and engine room lighting.
The locomotive decoder installed in this model has two special function outputs A1 & A2 which are used for train rear lighting.

Therefore, there is an additional controller for the mentioned light functions on the circuit board.

This controller works like a function decoder and can be set as desired via CV programming.

The CV table in the PDF gives information about the programming to be used. The numbering of the outputs is independent of the numbering of the locomotive decoder.

For the additional controller of the BR 150 applies:

A1 - driver's cab lighting FS1
A2 - driver's cab lighting FS2
A3 - engine room lighting

CV table for the special controller
02.09.2019 What do I have to consider when installing the sound decoder into the TGK2 #47520?
In the analog version the solder pads are as follows:
"S1" = open
"S2" = closed
Analog version
: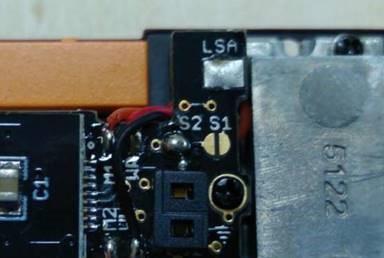 Before installing the sound decoder (#46441) it is necessary to change the solder pads:
"S1" = closed
"S2" = open
PIKO SmartDecoder 4.1 Next18 Sound: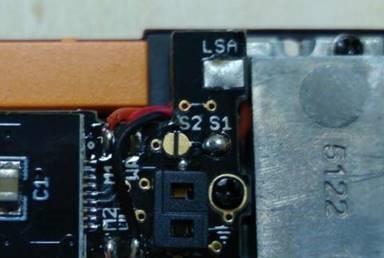 Can PIKO TT models be operated with the new TT close coupler of the company Tillig*?
Our TT locos (Taurus, Hercules and BR 151) are equipped with a standard NEM 358, but have no close coupler guide.

This is why, when using the new Tillig* close coupler and the close coupler from other manufacturers, the distance between the locomotive and waggons becomes very short so that "over-buffering" and associated derailment could happen.

To solve this problem we offer under the article numbers #46040 and #46041 corresponding close coupling adapter.

All other models have close coupler mechanisms and therefore require no adapter.
*Tillig is a registered trademark of TILLIG Modellbahnen GmbH & Co. KG, Sebnitz

Rotlichtschaltung TT BR 118 im Digitalbetrieb
TT Talent II - digital with PluX16-Decoder (46121) / problem interieur lights
TT Talent II - digitalized with PluX16 Decoder (46121) - problem with interieur lights From the interface, the PluX16 decoder provides two additonal function outputs. From the NEM those outputs are assigned to the red train-end-lights. But to realize further functions like interieur lights we had to find another solution.

The PIKO TT Talent II has an automatic white-red light change per direction, where the red lights cannot be controlled separately. But by default the PluX16 decoder is programmed to "create" a light change according to the NEM, where the output A1 will only be active in one direction. Due to this the interieur lights are working incorrect.

But this is easy to change by modification of some CV values:
-with sound:
To make the interieur lights shine permanently, please change CV107 from 3 to 0.
Now the interieur lights can be controlled seperately via F1.

-without soundkit 46191:
Change CV107 from 3 to 0. To avoid interference with the sound functions, please change following CVs also:
CV904 from 3 to 0 - F1 will not activate sound anymore
CV905 from 1 to 3 - the engine sound is not assigned to F2
CV910 from 0 to 1 - the horn (prior F2) is now on F7