PIKO SmartControl® Sets
Start into the future of digital model railroad control! PIKO Premium Train Sets contain all necessary equipment including the PIKO SmartController.
The PIKO SmartControl® system is the perfect choice for model train enthusiasts who is looking for an easy to operate modern digital control system. It combines the advantages of a smartphone based control system with the specific requirements of model train control systems.

Information / FAQ page | Leaflet (pdf, 1.7 MB)

Our brochure in other languages: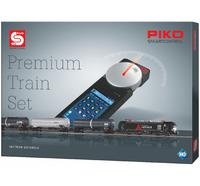 Page 1

SmartControl Premium Set RegioExpress w/Sound
Item number: 59112
Availability:

currently not available

SmartControl Premium Set ICE3 + Freight w/Sound
Item number: 59114
Availability:

available (Delivery will be carried out within 3 business days)

SmartControl Premium Train Set ICE3 + G1206 w/Sound
Item number: 59118
Availability:

currently not available
Page 1